Becoming One: August 8-9, 2014
Join Jimmy and Karen Evans with special guests Dr. Caroline Leaf and Nancy Houston August 8-9, 2014 for the Becoming One simulcast. Lead couples in your church on the journey toward becoming one heart, mind, flesh and soul.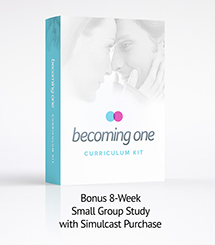 Event highlights include:
Becoming your spouse's soulmate
Keys to great communication
7 inhibitors of intimacy vow renewal ceremony
Access to a bonus 8-week couples small group study
and much more…….
Event Schedule:
Friday August 8, 2014 7-9 PM (All Time Zones)
Saturday August 9, 2014 9-11:30 AM (All Time Zones)
Event Speakers
| | | |
| --- | --- | --- |
| Jimmy and Karen Evans | Nancy Houston | Dr. Caroline Leaf |
---
How Do I Host?
Hosting a simulcast is very user friendly: If you have a strong internet connection and a venue you are ready to broadcast!
Here is what you will need:
Window's or Mac OSX operating system on your computer
Broadband Internet – 3MBPS download speed or greater (You can test your speed at http://speedtest.net)
Internet Explorer, Google Chrome, or Safari internet browser with Flash Player installed.
The Becoming One simulcast is also iPhone, iPad, iPod touch and android device friendly
---
What Do I Get?
Hosting a Marriagetoday simulcast allows you to equip and encourage your members while brining in a global event at a fraction of the cost. When you purchase the simulcast you will receive:
A License to host the simulcast.
The ability to sell tickets to your event
Downloadable and customizable promotional materials (posters, postcards, tickets, bulletin inserts, slides)
Access to a bonus 8-week couples small group study
Your church/ministry listed on the Marriagetoday 'Find A Host Site Page'
Designated customer service and technical support

---